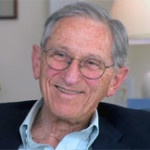 Alan Bonapart is a retired partner in the firm's Larkspur office. He has been with Bancroft & McAlister and its predecessor firms since 1959. Alan's practice emphasizes estate and trust planning and administration for people with substantial net worth.
Alan was certified as a specialist in probate, estate planning and trust law by the Board of Legal Specialization of the State Bar of California.
A member of the Advisory Committee of the Philip E. Heckerling Institute on Estate Planning of the University of Miami School of Law, Alan also was a member of the Institute Faculty for many years. Alan has been a Fellow of the American College of Trust and Estate Counsel since 1968. Alan served as a member of the Board of Directors of The Myrtle V. Fitchen Charitable Trust. Alan was chairman of the Planning Commission of the City of Sausalito from 1996-1997.
Alan has been included in Naifeh & Smith's The Best Lawyers in America, Estates, Who's Who in America, and Who's Who in American Law
Position: Of Counsel (Retired Partner)
Areas of Practice:
Estate Planning
Administration of Trusts and Estates
Probate law
Federal Estate and Gift Taxation
Income Taxation of Estates and Trusts
Private Foundations; Charitable Giving
Bar Admissions and Memberships:
Supreme Court of the State of California; 1955
Tax Court of the United States 1965
U.S. District Court, Northern District of California. 1955
Court of Appeals of the United States for the Ninth Circuit 1955
Supreme Court of the United States, 1971Certified Specialist in Probate, Estate Planning and Trust Law, Board of Legal Specialization, State Bar of California.
Education:
City College of San Francisco (A.A., 1949)
University of California at Berkeley (A.B., 1951) Phi Beta Kappa;
Boalt Hall School of Law, University of California at Berkeley (J.D., 1954) Phi Alpha Delta
Professional Organizations:
Bar Association of San Francisco (Member, Board of Directors, 1960)
Marin County Bar Association
The State Bar of California (Member, Committee on Administration of Justice, 1966-1972, Estate Planning, Probate and Trust Law Section)
American Bar Association (Member, Real Property, Probate and Trust Law Section)
The American College of Trust and Estate Counsel
International Academy of Estate and Trust Law, 1976-1995
Selected Publications:
"Estate Planning and Women: Consciousness Raising for Estate Planners," 8 University of Miami Institute on Estate Planning, Ch. 10 (1974)
"California's Revised Uniform Principal and Income Act—Advising Individual Fiduciaries," 21 University of Southern California Tax Institute 503 (1969)